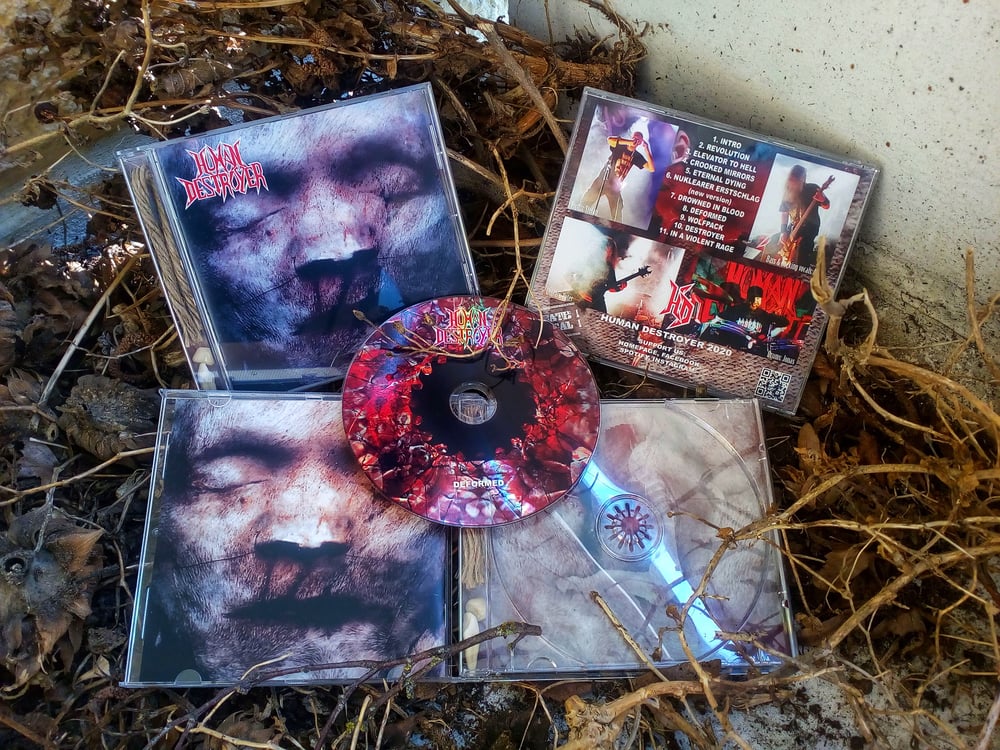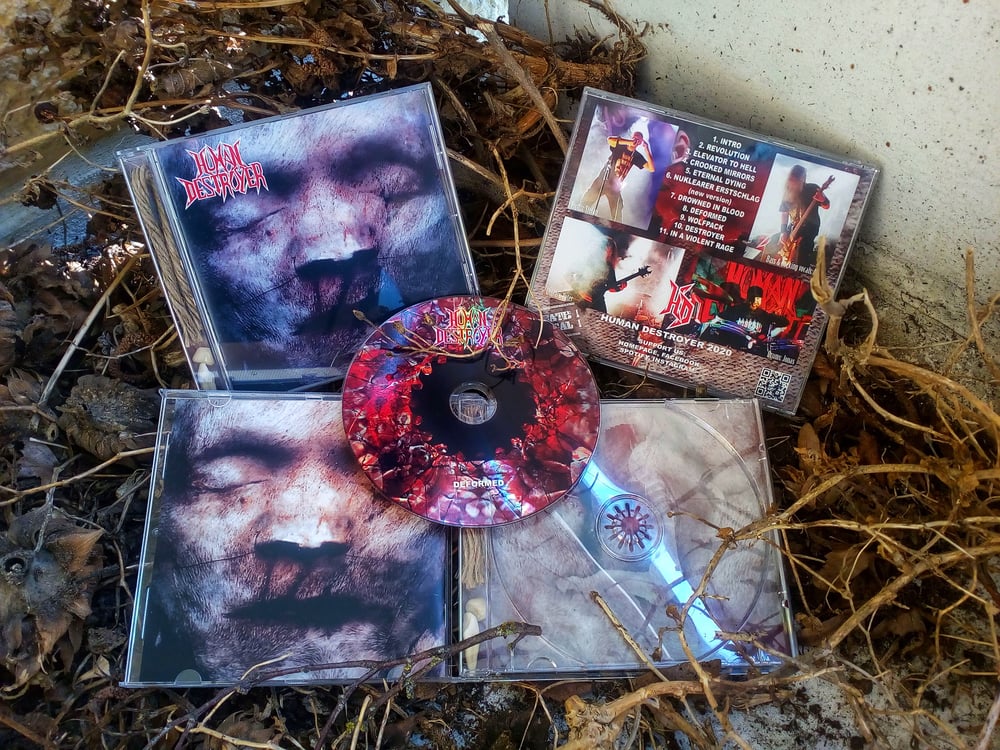 3. DEFORMED Full Album CD 2020
€12.00 / On Sale
3. DEFORMED Full Album CD 2020
released by Human Destroyer (2020)
Tracks:
01. Intro (Death Metal Kanon)
02. Revolution
03. Elevator To Hell
04. Crooked Mirrors
05. Eternal Dying
06. Nuklearer Erstschlag (new version)
07. Drowned In Blood
08. Deformed
09. Wolfpack
10. Destroyer
11. In A Violent Rage
"Deformed" is the name of our new Death Metal album.
We are particularly proud of this third full-length CD, especially because it's been recorded and produced entirely by ourselves.
It fits the different musical tastes in equal parts: Technical, "full-on-the-face" -brutal and doomy-dark, which mutates for us into the perfect metal mix for every connoisseur of the genre.
Our album offers a lot of different influences and not just old school Death. After a sinister and gurdy "Intro" (Death Metal Canon), it follow by "Revolution" merciless and faster master parts, which mix in the other ten songs with groovy, sluggish riffs,
The songwriting always remains balanced and varied, so that everything has its own "well thought-out" system, which gives dynamism and invites to listen to the album more and more.
In keeping with the band name, our songs thematize the evil of humanity - war, terror, destruction, hubris, as well as self-destruction and hatred, expecially in the song named as the album.
It's about the loss of control over the own mind and the forced contemplation of the own world's end as in "Elevator to Hell", whereby the voices of our singer Stefan and Pavel's backing vocals emphasize these seemingly schizophrenic tendencies.
For you is waiting a lot of Raw brutality through the blast beats of our new drummer Jonas, together with an always well thought-out song structure, sophisticated guitar solos from Peter, a loud / quiet dynamic which makes possible to hear well Pavel's bass line - expecially in the slow passages- which is not obvious for all death metal recordings.
Variety, listening experiences and also hidden surprises like the slower and more emotional "In a Violent Rage", all of that is contained in our record.
Even if we are not reinventing the wheel, everything is perfectly matched and always inspired by our idols like Morbid Angel and Nile and their development.
With this album you get a new work that perfectly complements your own record collection instead to end up with another brutal / tech / oldschool / death etc. album.
That's what we stand for as a band, and that's why we're proud to present you our new masterpiece.
It costed us a lot of effort, sweat and many sacrifices in front of the altar of the metal god.
Enjoy it drowning in our music!
Stay metal!